Do wygrania jest hulajnoga dla dzieci – idealny prezent na Dzień Dziecka! Postaramy się ogłosić wyniki tak, żeby dotarł do zwycięzcy jeszcze przed 1 czerwca!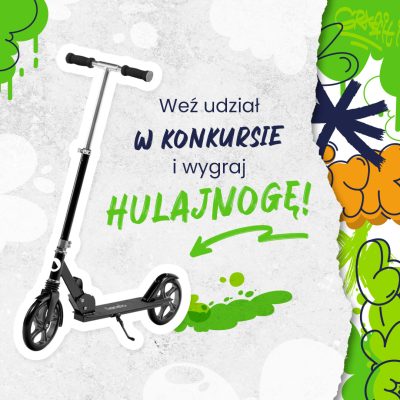 Co musisz zrobić, żeby wziąć udział w konkursie?
Chcesz zrobić prezent swojemu dziecku? No pewnie, że tak – co za pytanie… Dzień dziecka to idealna okazja, żeby zrobić mu świetny prezent! Jest już ciepło, więc każda aktywność na świeżym powietrzu jest bardzo wskazana! Hulajnoga na pewno ucieszy każdego, kto uwielbia spędzać czas aktywnie, no bo jak – weekend bez rodzinnego spaceru? To weekend stracony! Przyda Ci się hulajnoga dla swojej pociechy? Kto wie? Może akurat wygrasz?
Spacery z dziećmi staną się jeszcze bardziej przyjemne, kiedy weźmiesz ze sobą wygraną w naszym konkursie hulajnogę! Lionelo Luca to hulajnoga przeznaczona dla dzieci, młodzieży oraz dorosłych. Amortyzacja ShockResist w kierownicy zapewnia maksymalny komfort jazdy i znacznie ogranicza wstrząsy na niekorzystnej nawierzchni. Specjalne materiały i nowoczesny design sprawiają, że świetnie sprawdzi się na nawierzchniach asfaltowych oraz wybrukowanych chodnikach. To hulajnoga na lata, 3-stopniowa regulacja wysokości kierownicy sprawia, że hulajnoga rośnie razem z dzieckiem.