Jako marka lajt mobile chcemy nieść pomoc wszystkim, którzy jej potrzebują.

Wszystkie środki z przelewów autoryzacyjnych przeznaczamy na akcję "lajtowe pomaganie". Każdego miesiąca wspieramy najbardziej potrzebujące fundacje, ośrodki dla bezdomnych, domy dziecka, hospicja, schroniska i inne organizacje charytatywne.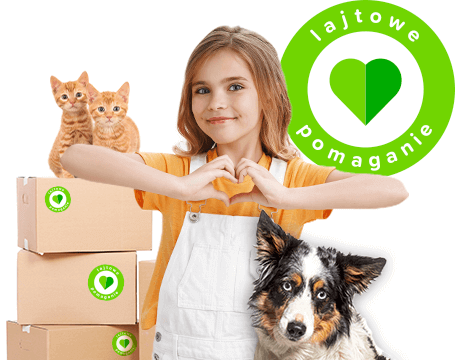 Pomaganie stało się także nieodłącznym elementem naszej pracy i za pośrednictwem akcji "lajtowe pomaganie", chcemy propagować niesienie pomocy każdemu potrzebującemu, bez względu na to, czy jest to zwierzę czy człowiek.
Środki z przelewów autoryzacyjnych naszych klientów są w całości przekazywane na zakup najbardziej potrzebnych rzeczy dla wybranych organizacji charytatywnych. Każdego miesiąca wspomagamy inne miejsce.
Z roku na rok zwiększa się liczba nowo powstających, potrzebujących ośrodków i fundacji. Jest to dla nas motywacja i przestajemy być bierni. Prosty gest, który wiele znaczy dla potrzebujących.
Skąd pomysł na #lajtowepomaganie?
Skąd taka inicjatywa? Odpowiedź jest prosta! W lajt mobile podczas składania zamówienia należy wykonać przelew autoryzacyjny w wysokości 1,00 zł i w związku z tym, że jest to kwota bezzwrotna, nie dopuszczaliśmy myśli, że będziemy na tym zarabiać. Dlatego postanowiliśmy w imieniu naszych Klientów wspierać fundacje i organizacje charytatywne. Ja sama na co dzień jestem zaangażowana w tego typu inicjatywy, więc bardzo cieszy mnie fakt, że Zarząd poparł mój pomysł i możemy przeznaczać te środki na szczytne cele. Zawsze chciałam, żeby nasza sieć pomagała, bo uważam że to ważne, a dobro przecież wraca."

Anna Ossowska-Osuch, Dyrektor lajt mobile
Archiwum akcji lajtowe pomaganie
Za zgromadzone środki z przelewów autoryzacyjnych naszych klientów, którzy dołączyli do naszej sieci w lutym, w tym miesiącu lajtowe pomaganie trafia do Psierocińca ze Zbierska-Cukrowni. Na życzenie fundacji zamówiliśmy stos specjalistycznej karmy dla psów z dolegliwościami trzustki i wątroby oraz przy problemach żołądkowo-jelitowych.
Czytaj więcej
Zobacz komu jeszcze pomogliśmy w ramach akcji lajtowe pomaganie!
Znasz fundację, która
potrzebuje wsparcia?